Record-breaking hail has lashed parts of central
Queensland
, with gigantic hailstones measuring 16 centimetres confirmed as the largest ever in Australia's history.
The abnormally large hail fell at Yalboroo, north of Mackay, as a supercell thunderstorm passed over the region yesterday at lunchtime.
The
Bureau of Meteorology
(BOM) confirmed some were the biggest they'd ever seen in the country, breaking the previous record of 14 centimetres set in Kempsey, regional New South Wales, back in 1999.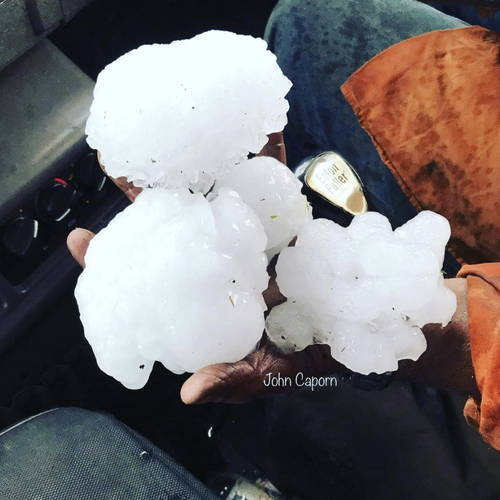 Meteorologists said they were expecting some storm activity in Queensland the wake of the severe weather on Monday, however the monstrous hailstones produced were not in the forecast.
Yesterday's battering was the result of "strong and sustained updraft" that was able to keep the hail in the air while it continued to grow.
The longer that hail stays airborne, the larger it can grow, according to meteorologists.
Although the hail is a new record for Australia, it's not a world record.
A hailstone measuring in at 20.3 centimetres in diameter fell in Vivan, South Dakota, USA, back on July 23, 2010.
Queensland was hit with giant hailstones and tornadoes earlier in the week in areas like Pittsworth, south of Toowoomba and Bracewell, near Gladstone.
Dramatic footage captured golf ball-sized hailstones blanketing houses in what looked like snow.
While the potential tornadoes absconded quickly, leaving no damage to neighbouring towns, homes in the Darling Downs, the Highfields north of Toowoomba and other parts of southern Queensland weathered the storm.