Victoria
Premier Daniel Andrews has revealed the state's back-to-school plan with mass mask and RAT delivery across the state.
Term starts on January 28 in Victoria, with students back on January 31.
"Day one, term one is very important, we want kids back in the classrooms, we want kids back at school," Mr Andrews said today.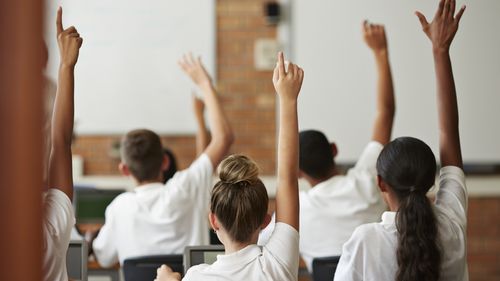 A total of 14 million RATs are being delivered to schools and early childhood centres, including 6.6 million for the first week back.
"We will be recommending to primary and secondary school students and staff, and early childhood education and care staff, to test at home twice weekly," Deputy Premier James Merlino said.
"But because they are more medically vulnerable, we recommend students and staff at specialist schools do the at-home test five times a week and we will be providing the kits."
Staff eligible for a booster shot must receive their third dose by February 25, while those not yet eligible must get the booster within three months and two weeks of receiving their second dose.
Victoria will also deliver 51,000 air purifiers to schools to be placed in high-risk settings, such as music rooms, staff rooms, indoor canteens, sick bays, and poorly-ventilated rooms.
Grants for shade sail construction are also being made available, with outdoor learning encouraged.
"I can also announce we are delivering 30 million surgical masks to schools in the first four weeks of term, with 5.8 million surgical masks delivered in the first week," Mr Merlino said.
"That includes N95 masks, children-sized surgical masks, as well as adult-sized surgical masks.
"They will be recommended and available at the school."
Students in Year Three and above will be required to wear a mask at school, as will all staff.
As in NSW, schools will no longer automatically shut down after a positive COVID-19 case is detected.
Parents will be required to let the school know if their child has COVID-19, and the school will inform other parents, who will be asked to monitor their children for symptoms.
Students forced to isolate will be able to access provisions for remote learning.
Extra-curricular activities will also resume across the state.
"In terms of school camps, excursions, sport competitions, music and the arts, all of those things can proceed," Mr Merlino said.
"There will obviously be, at all times, a risk assessment at the school level."
Victoria's COVID-19 cases have peaked, CHO says
Victoria has likely reached its peak of daily
COVID-19 numbers
, the state Chief Health Officer has theorised.
Posting on Twitter in response to news that Victoria recorded 14 new deaths and 13,091 new cases, Professor Brett Sutton said there were positive signs in the data.
"Booster blitz going great guns. Peak in cases very likely behind us," Professor Sutton wrote.
"ICU cases and deaths haven't peaked, but will hopefully stabilise soon."
The state is currently managing 191,058 active case of the virus, 1002 of whom are in hospital.
A total of 44 Victorians are currently on ventilators as a result of the virus.
Victoria's two-dose vaccine rate for residents aged over 12 is currently sitting at 93 per cent, while its three-dose rate for residents aged over 18 is currently at 31 per cent.
Almost 5.4 million doses of COVID-19 vaccines have been administered at state-run sites since the pandemic begun.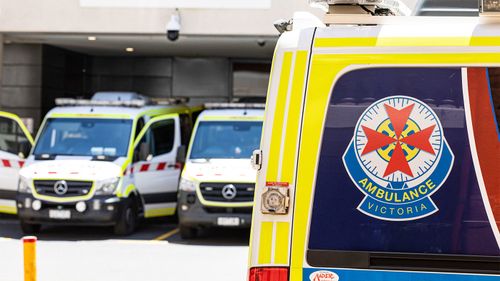 Elderly hardest-hit by Omicron, but new data shows boosters critical
Although the Omicron variant has been widely regarded as a strain primarily affecting more mobile, younger Australians, the numbers in Victoria show the elderly are the hardest-hit, The Age has reported.
The median age for COVID-19 hospitalisations in Victoria is 62 in Melbourne and 67 in regional communities.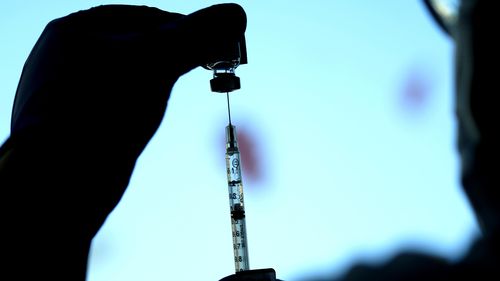 That is two decades older than what was seen during the Delta outbreak.
However, the data also shows that people who have received their booster shot are vastly less likely to need hospitalisation.
Meanwhile, some doctors in the state are calling for a reintroduction of elective surgery, after the statewide "code brown" saw such operations postponed.
"Those calls are monitored by the experts every day, and as soon as we can under the code brown arrangement, feel that it is safe and that we have significant capacity to resume services, that is exactly what we will do," Mr Andrews said.
Victoria recorded 16,016 new COVID-19 cases and 20 deaths yesterday.
State COVID-19 Commander Jeroen Weimar said the hospitalisations were beginning to stabilise.
"Encouraging to see a little bit of stabilisation over the last few days in that hospitalisation number," he said.
"Case numbers look like they're reasonably stabilising," he said.
Mr Weimar said the seven-day average of cases is sitting just under 21,000.
He also said the test positivity rate is beginning to drop "ever so slightly".